Lpg Conversion Kit Carburetor for Gasoline Generator
The BISON LPG carburetor kit is carefully designed and manufactured to ensure the highest quality and performance for gas-powered engines.
BISON generator LPG carburetor kits:
Introduction
168 Images
188 Images
Factory
Introduction
Presenting the brand-new BISON LPG Carburetor Kit – the supreme answer for boosting your generator's performance and minimizing your environmental impact. Created and produced with accuracy by BISON Parts & Accessories manufacturer, this groundbreaking kit is devised to offer you a proficient and environmentally friendly substitute for conventional gasoline-powered generators.
Inside the BISON LPG Carburetor Kit, you will find:
Top-notch LPG Carburetor: This meticulously crafted carburetor is purposely constructed to accommodate the distinct characteristics of LPG fuel, guaranteeing ideal combustion and effectiveness. Its cutting-edge design enables flawless incorporation with your generator, offering a seamless shift from gasoline to LPG functioning.
Dual Fuel Hose: The included dual fuel hose connects your generator to a standard LPG cylinder, allowing you to switch between fuels with ease. The heavy-duty construction ensures durability and longevity, even under the most demanding conditions.
Regulator: Our top-of-the-line regulator ensures a consistent flow of LPG to your generator, maintaining optimal performance and preventing any fluctuations in power output. Additionally, the safety shut-off feature is incorporated, safeguarding your generator from possible harm caused by gas leaks or excessive pressure.
Mounting Hardware: All necessary mounting brackets, screws, and clamps are provided to ensure a secure and hassle-free installation.
Product Specifications:
Compatible with various generator models and brands
Suitable for both portable and stationary generators
Supports generators with power outputs ranging from 2 kW to 10 kW
168 Images
188 Images
Factory
Whether you're looking for LPG carburetor kits/generator parts and accessories or components for a complete engine rebuild, we have the parts you need. Our full range of original parts is always available for fast and timely delivery. So if you need to buy generator parts, you can rely on BISON!
generator LPG carburetor kits: what is it for?
Don't miss out on the opportunity to upgrade your generator with the BISON LPG Carburetor Kit. Experience the cost-saving benefits, enhanced performance, and environmental advantages of switching to LPG fuel today. Order your BISON Generator Parts now, and join the thousands of satisfied customers who have made the smart choice for their generator needs.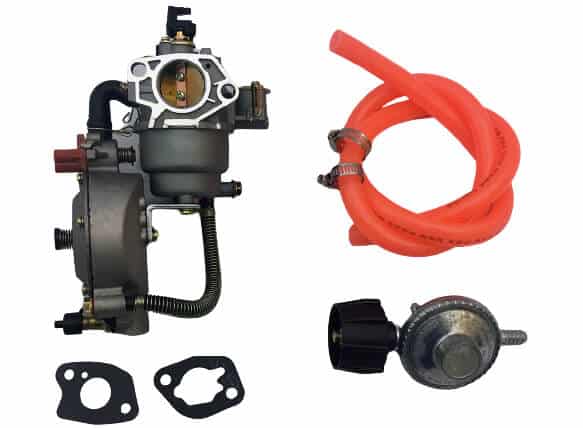 BISON LPG Carburetor Kit Beats Ordinary Carburetor
Cost Efficiency: LPG is typically cheaper than gasoline, resulting in significant fuel cost savings over time.
Reduced Emissions: LPG burns cleaner than gasoline, producing fewer harmful emissions and contributing to a healthier environment.
Extended Generator Life: LPG produces less carbon buildup, which can extend the lifespan of your generator's engine.
What makes BISON LPG Carburetor Kit unique?
Exceptional Quality: Crafted using the finest materials and adhering to stringent quality control measures, our kit guarantees dependable performance and enduring durability.
Masterful Engineering: Our skilled engineers have carefully designed every element to ensure flawless compatibility with your generator, leading to uninterrupted operation and peak performance.
Outstanding Customer Support: At BISON, we take pride in our products and are dedicated to offering first-rate customer assistance for any inquiries or issues you might encounter.