generator fuel injection pump manufacturer from china
China BISON Generator Fuel Injection Pump stands out from comparable products available in the market, primarily due to its unparalleled durability and reliability. The construction involves utilizing only top-tier materials, guaranteeing it can endure even the toughest conditions. 
BISON fuel injection pump have:
Introduction
Images
factory
Introduction
We present to you the China BISON advanced Generator Fuel Injection Pump, crafted to provide unmatched performance and dependability for all your power generation requirements. This product is borne out of innovative technology, precise engineering, and a steadfast dedication to supplying top-notch, trustworthy generator components.
Unmatched Performance
China BISON Generator Fuel Injection Pump is engineered for maximum fuel efficiency. It's constructed to supply the exact quantity of fuel the engine needs, promoting seamless and economical operation while reducing fuel usage. Thanks to its sturdy design, the pump can endure extreme pressure and temperature conditions, making it perfect for intensive applications.
Unique Design Features
This pump boasts a distinctive design that minimizes noise and vibration, thereby boosting your generator's overall performance. Its small footprint allows for easy installation, even in constrained spaces. The pump's superior construction ensures it is resistant to wear and tear, extending its lifespan and reducing maintenance costs.
Broad Compatibility
China BISON Fuel Injection Pump is designed to be compatible with a wide range of generator models. Whether you're operating a small residential generator or a large industrial unit, the BISON pump is the perfect fit. We understand the importance of flexibility in part replacement and have ensured our pump's adaptability to meet this need.
In conclusion, the China generator accessories manufacturer Fuel Injection Pump is more than just a component; it's a promise of performance, reliability, and efficiency. Whether you're an industry professional looking for dependable parts or a homeowner seeking to enhance the efficiency of your generator, the BISON Fuel Injection Pump is the perfect solution. Trust us for uncompromised quality and unrivaled performance.
Images
factory
Whether you're looking for fuel injection pump/generator parts and accessories or components for a complete engine rebuild, we have the parts you need. Our full range of original parts is always available for fast and timely delivery. So if you need to buy generator parts, you can rely on BISON!
What is generator fuel injection pump?
Diesel injection pumps are engineered to deliver precise amounts of fluid into reservoirs or production systems, and are frequently utilized in generators to pump fuel into engine cylinders. Jet pumps, which are a type of positive displacement pump, operate on the principle of expanding and contracting chambers to transport fluid.
The fuel injection pump of the BISON generator is an integral part of its operation. This critical component plays an important role in ensuring generators operate at optimum efficiency while maintaining reliable power output and reducing emissions.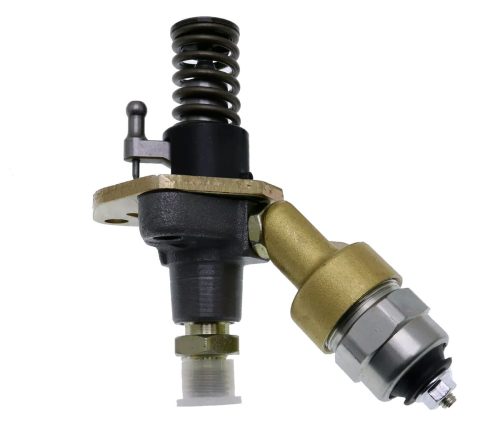 How the generator fuel injection pump works
The fuel injection pump is responsible for delivering precise amounts of fuel into the combustion chamber of a generator's engine. It operates under high pressure, made possible by a complex mechanism involving several key components:
Plunger: Creates high pressure.
Delivery Valve: Controls the delivery of fuel.
Injector Nozzle: Atomizes the fuel for better combustion.
Governor: Regulates the amount of fuel depending on load demand.
These components work together to ensure that the right amount of fuel is delivered at the right time, resulting in efficient combustion and power generation.
Impact of Fuel Injection Pumps on Generator Performance
A well-functioning fuel injection pump directly impacts the generator's performance and reliability. Proper fuel injection leads to efficient combustion, which results in consistent power output and prevents engine damage.
Fuel injection pumps contribute significantly to fuel efficiency. Precise control of fuel delivery allows for optimal combustion, reducing wastage and saving costs.
Emission control is a critical concern in power generation. A well-regulated fuel injection system can minimize harmful emissions by ensuring complete and clean combustion.