When it comes to protecting your generator from the elements, a BISON generator fan cover is an essential accessory. It not only safeguards the device from dust, debris, and harsh weather conditions but also enhances its longevity.
BISON Fan Cover have:
Introduction
Images
factory
Introduction
Presenting BISON's high-quality generator fan covers, innovatively designed to provide your fans with unparalleled protection and performance enhancement. This top-notch cover is a great asset for those looking to optimize the life and productivity of their portable generators.
Made from top-grade elastic material, this fan cover is designed to withstand the harshest weather elements. It can withstand extreme heat, torrential rain or freezing cold – BISON's fan covers are designed to withstand all of these conditions. Its rugged design ensures your fan is protected no matter what environmental challenges it faces.
The fan guard is perfectly sized to fit market-standard portable generators, ensuring a tight and secure fit. BISON knows that beauty is important, so BISON offers products in a variety of colors. Choose the one that suits you best and enhances the visual appeal of your setup.
But this case offers more than just protection. In addition, it is also crucial to improve the overall performance of the generator. Minimize wear and tear by protecting your generator fans from harsh environmental conditions so your turbines can run at peak efficiency for long periods of time. This increases power generation, reduces downtime, and ultimately improves your return on investment.
BISON's fan covers are perfect for everyone, from green energy enthusiasts to commercial wind farm operators. Let BISON be your best Chinese generator accessories manufacturer.
Images
factory
Whether you're looking for Fan Cover/generator parts and accessories or components for a complete engine rebuild, we have the parts you need. Our full range of original parts is always available for fast and timely delivery. So if you need to buy generator parts, you can rely on BISON!
role of the Fan cover form generator
Use a Fan cover to ensure the BISON generator fan pushes air evenly across the entire radiator. If the fan cover is not used, then there may be hot spots in the heatsink, for example, the fan usually pushes air through the heatsink directly in front of the blades, with very little air passing through the corners of the heatsink. The use of a fan cover causes air to flow evenly over the entire surface of the radiator. In addition, the use of fan covers can properly protect the maintenance personnel of the unit from injury caused by the fan blades.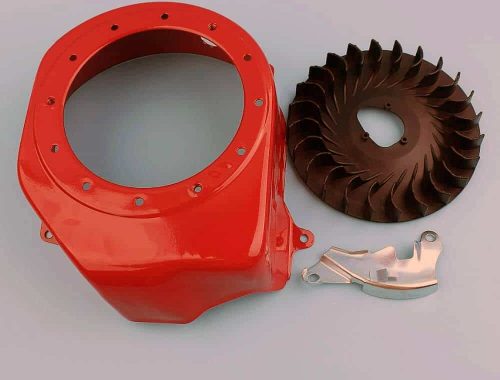 generator fan cover: a key component
The generator fan guard is an important component that plays a key role in protecting the generator and increasing its efficiency. Here are some key benefits of generator fan covers:
Protection safety: The fan cover can prevent fingers or other objects from touching the rotating fan blades, thus preventing accidental injury.
Noise reduction: Certain types of fan guards are properly designed to effectively reduce the noise produced by the generator when it is running.
Increased Efficiency: Proper fan shroud design can help optimize air flow, thereby improving cooling efficiency and allowing the generator to run at an optimal temperature, thereby increasing its performance and longevity.
Importance of Generator Fan Covers
Extended Equipment Life: By protecting the machine from dust and dirt and preventing overheating, fan covers can extend the life of your generator. This will save the cost of replacing or repairing equipment.
Conservation of Energy: A well-designed fan cover can enhance the cooling process, ensuring the generator operates at an ideal temperature and minimizes energy wastage.
Ease of Maintenance and Cleaning: Fan guards are often designed to be easily removed, making regular maintenance and cleaning easy. This means you can regularly clean out the dust and debris inside the fan shroud to keep the unit running in great shape.