BISON generator fuel tanks can provide you with dependable and effective power. BISON tanks, which come in a variety of sizes, provide safe fuel storage and simple transportation.
BISON fuel tank have
Introduction
Datasheet
Images
factory
Introduction
Introducing BISON high-quality Generator Fuel Tank, a perfect blend of durability, efficiency, and versatility designed to meet your power needs. This fuel tank is meticulously crafted using robust material that guarantees long-lasting performance and resilience under extreme conditions.
Starting with the basics, BISON Generator Fuel Tank is designed with precise dimensions to ensure a perfect fit for most generators. The tank's size is carefully calibrated to optimize space and offer maximum fuel capacity without compromising its compact size. You can expect to store a significant amount of fuel, ensuring your generator runs for extended periods without refueling.
One of the advanced features of our fuel tank is its innovative design focused on reducing fuel consumption. This feature not only makes it cost-effective but also environmentally friendly. The tank also boasts of an excellent sealing system, ensuring there are no fuel leaks, thus maximizing safety.
Our Generator Fuel Tank is universally compatible with a wide range of generators, making it a versatile choice for all your power equipment. Its installation is straightforward and hassle-free, saving you time and potential installation costs.
What sets our Generator Fuel Tank apart from the competition is its unique combination of durability, fuel efficiency, and universal compatibility. These attributes, coupled with our commitment to quality, make it an unbeatable choice in the market.
We believe in BISON generator accessories, and hence, we offer a comprehensive warranty with our Generator Fuel Tank. This ensures you have peace of mind knowing that we stand behind our product. Additionally, we provide detailed instructions on proper maintenance practices to prolong the life of the tank and maintain optimum performance.
Invest in our Generator Fuel Tank today and experience a seamless power supply solution tailored to meet your needs.
Datasheet
Images
factory
Whether you're looking for fuel tank/generator parts and accessories or components for a complete engine rebuild, we have the parts you need. Our full range of original parts is always available for fast and timely delivery. So if you need to buy generator parts, you can rely on BISON!
Generator fuel tank introduction
In the world of reliable and efficient power generation, fuel tanks play a pivotal role for generators. Our BISON range of portable fuel tanks ensures that your generators receive a consistent fuel supply while maintaining secure storage. Available in an array of sizes, finding the perfect fit for your generator has never been easier.
For the production of dependable and high-performance energy, generator fuel tanks are indispensable. Opt for BISON's selection of portable fuel tanks to provide safe fuel storage solutions for your generators. These versatile fuel storage tanks come in various sizes, offering a straightforward choice for ensuring a continuous fuel supply for your generators. To guarantee the optimal performance of your generators, it's crucial to invest in a robust generator fuel tank. Act fast and contact us today.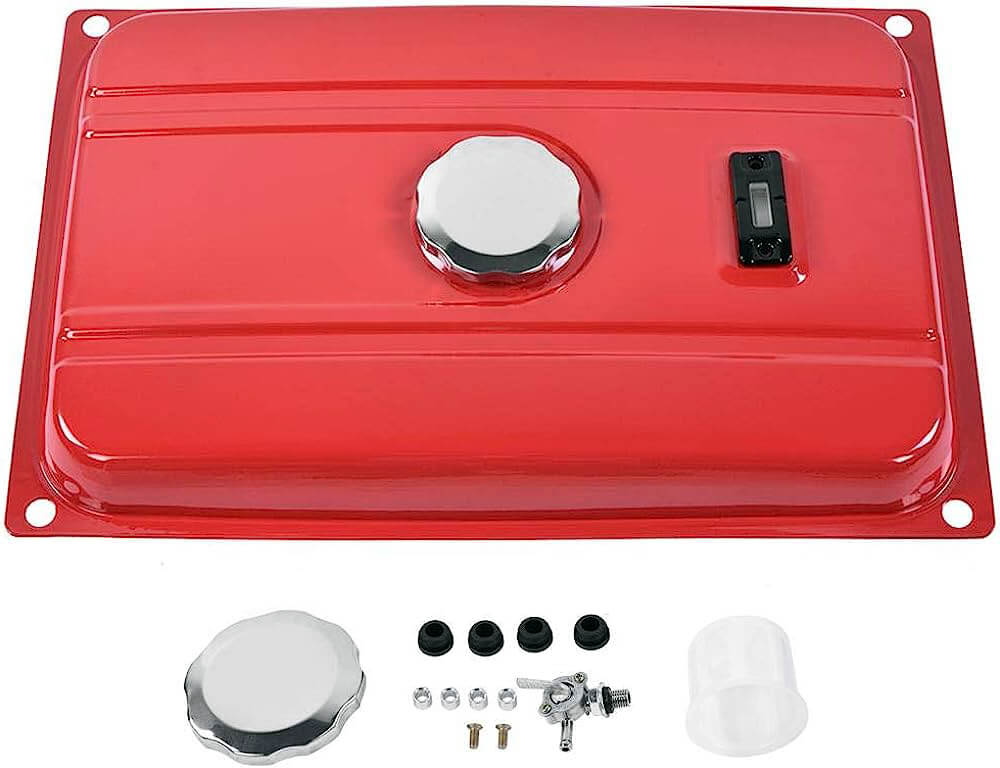 fuel tank capacity and usage
Any generator system must have a generator tank. In addition to providing a steady supply of gasoline for the engine, it also stores the fuel needed to power the generator. Fuel tank capacity is a key factor to consider when selecting a generator. Smaller tanks may be better for short, infrequent use, while larger tanks will result in longer run times and less frequent top-ups.
If the generator will be used in remote locations or for extended periods of time, a larger tank may be required. On the other hand, if the generator is used as a backup power source in an emergency, a smaller fuel tank will suffice.
importance of generator fuel tank
The fuel tank for the generator is crucial since it can make sure the generator runs smoothly and effectively.
A properly working generator fuel tank guarantees that the generator has a constant supply of fuel, enabling it to run continuously for longer periods of time. This is especially crucial in emergency scenarios where the generator must supply electricity for a long time.
Additionally, by lowering the possibility of fuel contamination and system failure, a properly kept fuel tank contributes to extending the lifespan of the generator and its components. The gasoline tank must also be routinely inspected and cleaned to maintain optimal operation and to stop leaks, which can be dangerous.