A power generator should power your most essential electronics during a power outage or when there are no electrical outlets nearby, such as at a construction site.
In this case, if you have yet to winterize your generator beforehand, there's a good chance it will be damaged when exposed to winter temperatures.
There are many problems with running a generator during the cold winter months, such as:
So-called "cold engine start" can ultimately damage a generator's engine.
Cold weather can turn the oil into a viscous gel, causing engine parts to scrape against each other during operation, potentially damaging the engine.
In winter, a generator's engine takes a while to start and takes longer to warm up and run properly.
Their engines won't run smoothly because the batteries and motors don't do well in the winter.
For these reasons and more, it's BISON's mission to write an easy-to-follow, step-by-step article on how to winterize a generator.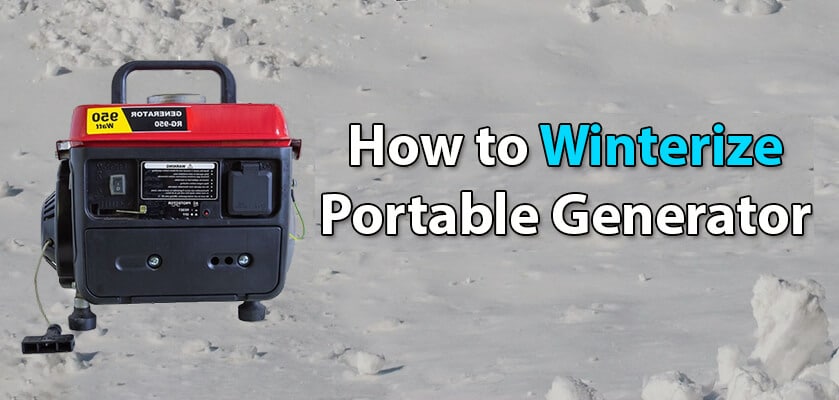 How to winterize a generator
Here's our simple step-by-step process on how to winterize a generator.
Place the generator in a place without snow and rain
If your generator has yet to be winterized and you start it in a snowy area, you will most likely damage it.
Let us explain, a generator's engine can take in air through the air intake and let it out through the exhaust pipe. However, when snow or water passes through these filters, they cannot expel it. The motor can become flooded if enough water or snow gets in, rendering it inoperable.
Second, any electrical system a generator may have (i.e., voltmeters, electrical outlets, etc.) can be destroyed by an electrical short circuit if run in contact with water or snow.
Last but not least, if the engine's fuel lines and other internal parts get water or snow, there is a good chance that the fuel or the parts themselves will corrode. As a result, the engine's life will be significantly reduced, requiring you to replace your expensive generator sooner than you think.
We advise ensuring it's in an area away from snow and rain before starting the generator. Otherwise, you risk ruining your expensive generator.
Ensure the battery is fully charged
As we all know, when the battery's temperature is lower than 40 degrees, it will not start to work correctly.
Therefore, it is a good idea to monitor whether the battery is well-charged or needs to be replaced.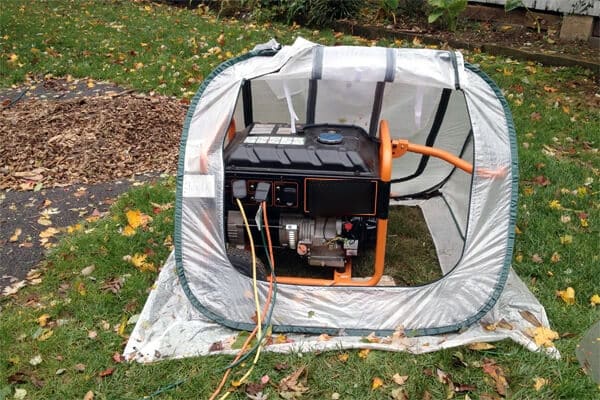 Install extra gear
Plenty of gadgets are designed to winterize generators so they can function properly in winter temperatures. These are the most common:
Engine block heater
This is the best solution to keep your engine oil from gelling, as it can damage the engine when it stops lubricating engine components. Specifically, it is an instrument that heats the oil before starting the engine to properly lubricate the internal parts properly, thus preventing the cold from damaging the engine.
Heating pads
These 4 x 5-inch pads can be placed on top of the engine or battery for about 10 to 15 minutes to warm it up. As a result, the engine oil regains its ability to lubricate, and the battery is better prepared for regular operation. They are the cheapest alternative, and we recommend them to anyone looking to winterize a portable generator on a budget.
Cold winter kits
These kits are an essential combination of the previous two gadgets. They combine a heating pad that acts as a battery heater and an engine block heater responsible for heating the engine. These kits are the easiest way to winterize a portable generator but are a bit expensive.
Although all three gadgets are a bit pricey, they can be one of the most effective ways to winterize a generator. We recommend purchasing either of these if they have spare cash.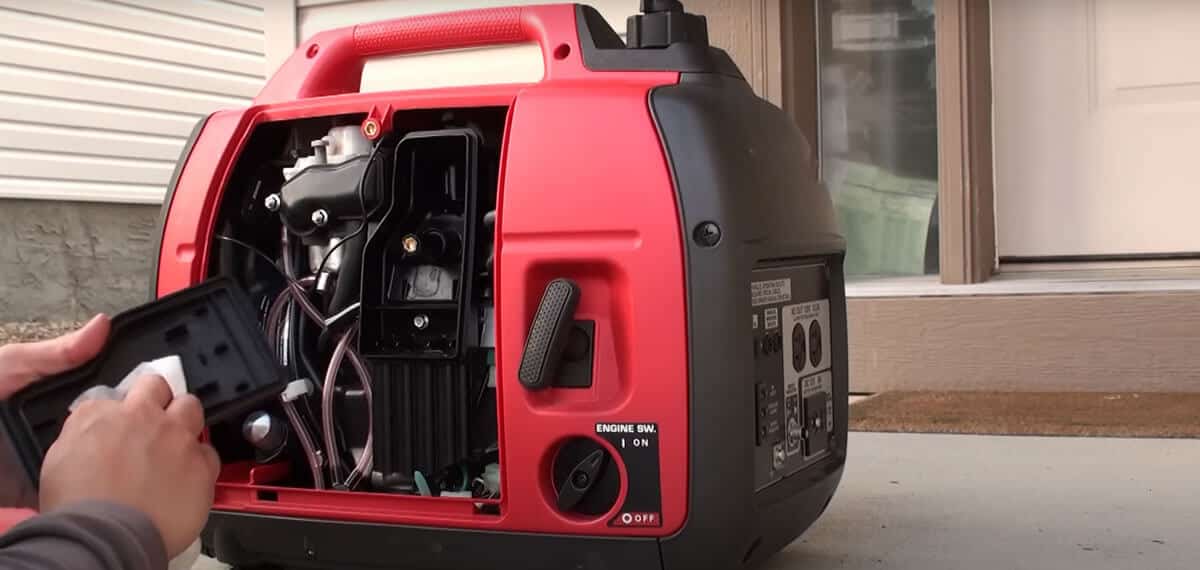 Check often
Before starting the generator, make sure everything is in order. As a guide, you should ask yourself the following questions:
Is there fuel in the tank?
Does the generator have enough oil to run?
Are any parts frozen in the snow?
After answering these questions, you will have the assurance that your generator is ready to start.
Be careful: if you need to confirm your generator is ready to run, you could ultimately damage it. So… take your time!
Give it time
When a generator is exposed to low temperatures for more than a few hours, its internal components can become cold and, in some cases, may even freeze.
In such cases, one must be alert to the risks involved. If you start a generator that has been exposed to the outside all day in the winter and starts loading right away, there is a good chance you will damage it.
There's a reason you have to keep your car engine warm on a snowy morning, right?
Well, the same thing happens with generators. You must turn them on and let them run for 15 to 20 minutes without plugging anything. Doing this will get the engine and fluids hot, lubricating all the internal components to keep this expensive piece of equipment from cracking.
Use fuel stabilizer
Exposing a generator to cold winter temperatures for extended periods presents many risks. It could be corroded, which is the worst thing to happen to an engine.
This is why we recommend putting a fuel stabilizer in a generator's fuel tank, especially if one assumes the generator will be left unattended for days or even weeks when exposed to cold conditions.
There are many reasons behind this advice, but the most important are:
A good quality fuel stabilizer keeps fuel injectors and carburetors clean, prevents rust and corrosion, and, most importantly, lubricates (this is critical for generators exposed to winter temperatures as the cold degrades and most internal components become rough, preventing the generator from functioning correctly).
It allows for a quick cold start even if the portable generator has not been used for a considerable period.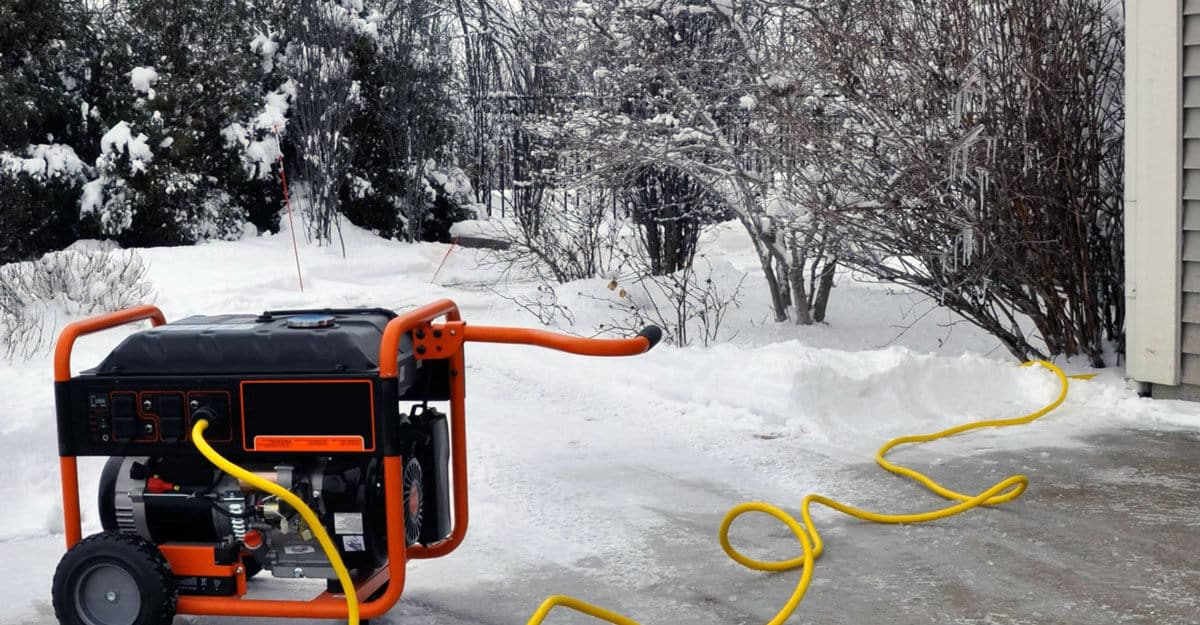 How to store generators in winter?
Many people don't go outside in the winter, so storing a generator until the season is their best idea.
Don't get us wrong; it does. However, specific procedures must be followed when storing a generator to ensure it will still work when you take it out.
Add fuel supplement
If you have a diesel portable generator:
Diesel is made from a component called paraffin that helps lubricate the injectors, fuel pump, and other parts of the engine. When not in use and exposed to low temperatures, paraffin wax becomes a gel and loses its ability to lubricate. Corrosion of the internal parts of the engine can therefore appear very quickly.
Additionally, lack of lubrication and the resulting corrosion can be dangerous for the life of a generator.
Adding an anti-gel extender to diesel fuel is the best solution for this particular problem of generators being stored in winter. The job of this substance is to keep the diesel fuel from gelling, thus keeping the engine well-lubricated and ready to be stored for weeks or even months. The generator will run as soon as you remove it from the garage.
If you have a gasoline generator:
Gasoline portable generators do not require anti-gel supplements but fuel stabilizers. These fuel additives will keep the fuel "fresh" for up to 2 years, and they're so cheap that there's no reason you shouldn't use them.
So if you want to store your gasoline generator for a few months, spending $15 on the best fuel stabilizer you can purchase is the best bet!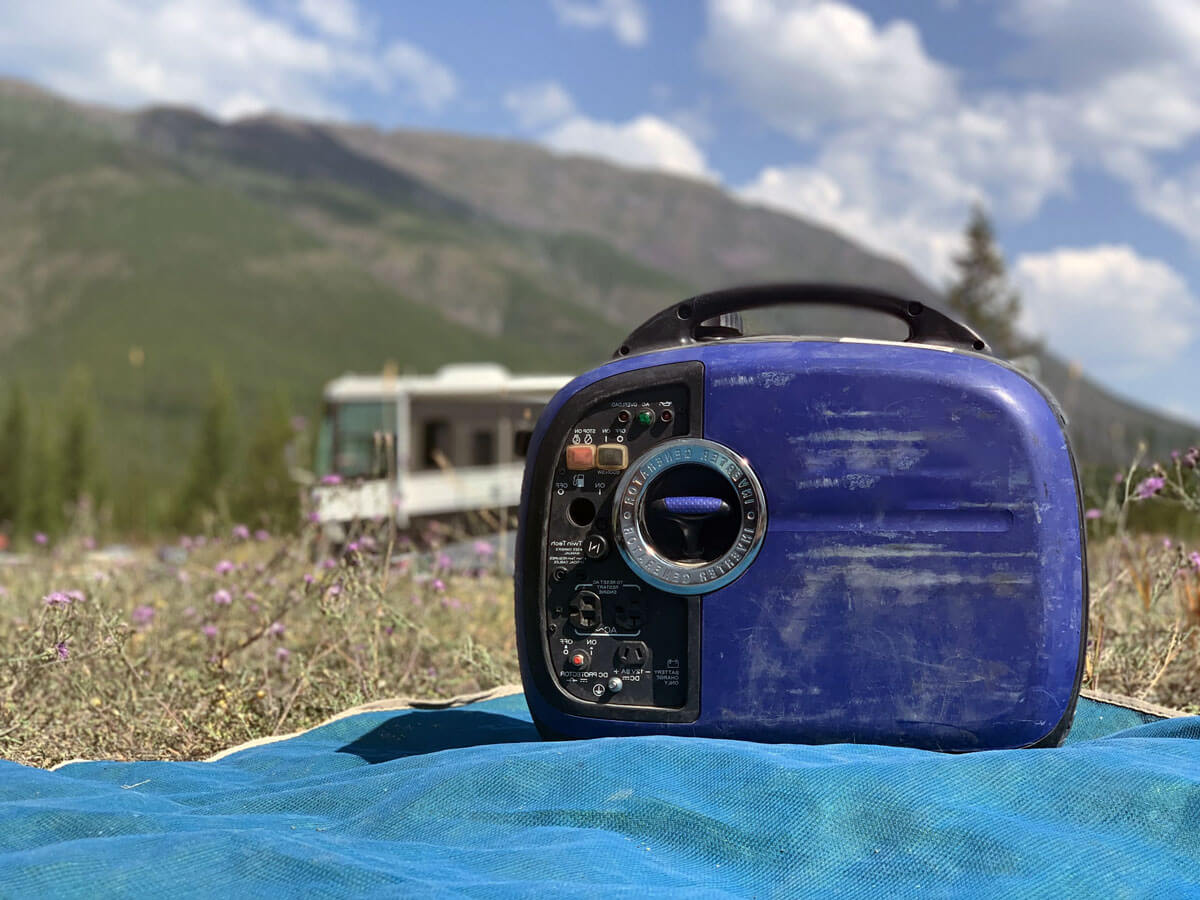 Replace the water-absorbing filter and drain the water separator
The next step in storing a generator is to ensure no water remains inside its engine.
When water sits on metal surfaces (such as internal engine parts) and doesn't evaporate (usually in winter), it tends to corrode those surfaces. As you probably already know, corrosion is terrible for engines since they should be well-lubricated to perform at their best.
This is why we recommend changing the water-absorbing filter and draining the water separator before storing your generator for the winter. If you do this, you will guarantee that no water will corrode the engine, saving you hundreds of dollars.
Check all fluids
This is a must-do step for anyone looking to store a diesel generator for the winter months. What we mean by this is that fluids are critical to dramatically increasing the life of a generator.
For example, checking the level of antifreeze coolant is very important because you will ensure that your generator is stored in the best possible way and not corroded due to exposure to cold temperatures.
Check the battery
There are three big problems with batteries and low temperatures in generators.
Corrosion
Cold is a significant cause of corrosion in battery connectors. That's why we recommend cleaning generators with a dry rag before storing them. That way, when you remove your generator from storage, you'll ensure the corrosion doesn't worsen.
Drainage
The low temperature dries the battery faster. For example, at 0°F, a battery loses 60% of its capacity. That's why we recommend that generator owners remove the battery and place it in a warm environment. If you do, you'll ensure that your battery will be in better shape when winter passes.
Pro Tip: If you plan on storing your generator for longer than a month, regular battery charging or jump starting is recommended
Clean and lubricate generator surfaces
Cleaning the exterior is a perfect way to keep your generator clean before storing it and prevent it from rusting, which can eventually damage the internal engine components. Also, it's a good idea to grease the internal components to ensure they're well-lubricated.
Here are two things you have to do:
Take a clean rug and wipe the surface of the generator to remove all dirt and dust. Thus, the chance of corrosion is significantly reduced. We like to rub in some car wax for extra protection from water and snow.
Apply grease to the metal parts of generators to keep them lubricated and prevent them from scratching each other.
If you take the time to do this, you will guarantee that your generator will be stored in top condition.
Conclusion
While winterizing your generator is a good plan, freezing temperatures can still pose problems. Maintenance and regular operation of the generator will help avoid any starting problems. Remember, fresh fuel, winter-grade oil, and a quality battery will give you a better chance of success in a power outage.
Refer to your generator owner's manual for any winter recommendations. Every makes/model is different, so there is no one-size-fits-all way to winterize your generator.
Please complete our contact form and we will soon get back to you with expert advice.
Get in touch to speak with our experts!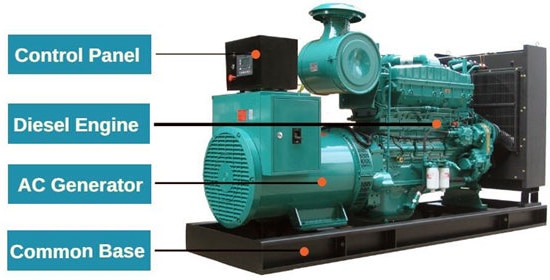 Unlock the power of electricity with a genset basic structure! Learn about the key components that make up a genset and how they work together to produce power.